K.D. Mason
NH Seacoast Author, Runner, Sailor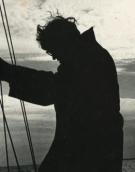 In his novel, Black Schooner, K.D. Mason highlights familiar old friends: Jack, Dave, Tom, Max, Patti, and "Cat." As the story progresses from the sparkling blue waters of Belize to Camden, Maine, and the Isles of Shoals, the intrigue builds, with new people and places that make it impossible to put the book down. Page by page, past events resurface with startling revelations, and as the deeper human elements of these characters rises to the surface, readers will be screaming for the next volume in this enticing series.
             Michael Sosik, Captain, York Harbor, ME


As a sailor ties a knot, K.D. Mason skillfully ties together the many narrative strands in this, his seventh novel. Black Schooner is a compelling, fast-moving mystery that leaves readers questioning the motives and behavior of the elusive Sylvie and wondering when and where she will turn up next.

             Byron Petrakis, PhD

K.D. Mason's sixth installment in these clever New England mysteries gripped me more than ever as I dove into Jack's complicated and dangerous world. The Atlantic Ocean plays a starring role in this life-and-death adventure for Jack and his friends, who live, run, and work along its dynamic coastline. Humor sparkles
through the sinister and frightening events in Unexpected Catch, entangling Jack in a net of ever-deeper intrigue. Fans will be pleased that Cat, the charming kitty, continues to play a soothing role amongst the growing chaos. Thank you, K.D., for this exciting read!

             Vicki Miller, Durham, NH

Once again, Jack Beale finds himself in the middle of a brewing mystery when a deep-sea fishing trip ends up as a race to discover the details of an Unexpected Catch. Danger follows Jack and his friends as they seek answers to questions about highly unusual events that take place along the NH coast and Massachusetts' north shore. As a local, I recognized many of the landmarks and could visualize the locations. As a runner, I related to Jack's need to run to clear his mind and develop insight. As a reader, I liked the story's quick development and the realistic interaction between the characters. This is another great addition to the Jack Beale series!"
             Curt L., Exeter, NH

I have read all of your books and can't wait to read your latest, Jessica's Secret. Jack and Max and their friends have become my friends and the way that you tell their stories, I get completely swept up into their world. Over the years you've taken me from the town of Rye Harbor to Belize, to Camden, ME and the Isles of Shoals. Whenever I finish one of your books, I'm left with a little feeling of emptiness as I know I will have to wait patiently for the next.
Thank you for creating these wonderful stories and keep writing.
             Laurie Pare, email from a fan
Once again, KD Mason has written another page turning Jack Beale mystery. From the first page of Jessica's Secret, on a stormy night in 1942, until it's conclusion in today's world, I could not put it down. I was hooked. I cannot wait for the next installment of the Jack Beale Series.
             Carrie Aubut, A New Hampshire fan
I'm a lush for entertaining books, and Jessica's Secret met all of my expectations. The opening chapters present a harrowing start off the NH coast in 1942, and I was pleasantly surprised at how easily K.D. Mason shifted his tale to present-day New Hampshire.  This book, like the rest of K.D. Mason's books, pulled me into the world that Jack, Max, and Courtney inhabit. They have become my friends who live just down the road, and I can't wait to run with Jack or sail on d'Riddem. If you are looking for a fun read with mystery, suspense, and—of course—romance, Jessica's Secret is for you.
             Andrea Vomacka

Jessica's Secret is a great introduction to the world of Jack Beale. Not only is this story steeped in espionage and intrigue, it also provides historical background on the dangers lurking just offshore during WWII, as well as the efforts of the local fishermen to protect the coastline. K.D. Mason's intricate descriptions make readers feel they are first-hand witnesses to the story. More important, readers become a part of the Rye Harbor community, where Jack, Max, and the other characters are like good friends and neighbors for whom you care deeply. I cannot wait to dig into the other books in the series!
             Jane Lemuth, Librarian, Newburyport MA Public Library
If you are a Jack Beale fan, you already know that you are in for a wonderful read. If you aren't already a Jack Beale fan, Jessica's Secret will convince you in just the first few pages of the book. When I look for a book to read, I want to be taken away on a journey; become someone else; and have some excitement, danger, and even a little bit of romance. That can be said of ANY of the Jack Beale Mystery Series by K.D. Mason. From the first book, Harbor Ice, to his most recent, Jessica's Secret, you will be kept captive in a little coastal town in New Hampshire and you won't want to leave . . . even when you close the book at the final words.

            Missi Stockwell - Missi's Book Reviews
K.D Mason's latest, EVIL INTENTIONS, in the Jack Beale mystery series is yet another treat for lovers of mystery and intrigue with his talent for creating flawed but loveable characters and despicable villains. Hooray! K.D. for delivering another can't-put-it-down romp with Jack Beale!
          Deb Merrill, Rye, NH
The body count continues to rise with the latest mystery in the Jack Beale
series.  EVIL INTENTIONS may be the best yet!
          Chip Cody, Portsmouth, NH
KD Mason has done it again.  He has written another book that kept me up past my bedtime because I couldn't put it down and found myself needing to read just "one more chapter".  Romance, suspense, murder…and Jack right in the thick of it all.  An incredible read that will keep you on edge waiting for the next twist.  
          Pat Edwards, Randolph, VT         
          5.0 out of 5 stars on Amazon KILLER RUN
          K.D. Mason improves with each book December 17, 2012
          By Carlos
I have read all of K.D.'s four novels and find that the more he writes the more compelling the stories become. Some of his early books were very exciting, and straightforward. They usually contained a single story-line. "Killer Run" is another in a series of Jack Beale mysteries, however this mystery has three story lines progressing simultaneously. The author does an excellent job trasitioning between the three sets of characters, and you can't wait to get back to the previous story. The mystery moves along very quickly and you won't want to put it down. Living on the North Shore of Massachusetts seemed to make the entire experience even more exciting. I was able to visualize many of the sights where the action takes place. This would be an excellent gift to give to a friend during the Christmas season. I can't wait for the next book to be released in this series. I can see several of the events that transpired in this book carrying over into another story.
I was on the edge of my seat devouring this page-turning thriller! Tales and mystery from hundreds of years past make their way into the current-day lives of a couple running a quaint New England inn. When one is found dead, Jack and Max, of course, find themselves in the middle of the action. I couldn't put the book down until I found out who did it, and, most importantly, if Jack and Max survive. With an insight into the human psyche and careful attention to detail, K.D Mason carries you to different worlds, and through the minds and motives of madmen and lovers.            
           Mary Nishimuta, Kentucky Coffeetree Cafe on KILLER RUN
Get ready for another sleepless night with Jack! He is back! Romance, friendship and a killer is on the loose. KD Mason's Jack Beale is the Seacoast of NH's version of Lawrence Sander's Archie McNally in Palm Beach, Florida. 
             Kathy Cox on DANGEROUS SHOALS
Hung by my thumbs, sacrificed a couple of meals, and unable to put the book down, but it was worth every minute. Anxiously awaiting the next one.            
             Paul Donovan on DANGEROUS SHOALS
Changing Tides  is the second book in K.D. Mason's Jack Beale Mystery series. However,
you need not read the first book to appreciate the second. Similar in style to Robert B. Parker's Spenser novels, Mason's main character Jack lives in Rye Harbor, New Hampshire and most of the events take place in or around
the New Hampshire seacoast. However, in this novel, a good part of the story takes place in the turquoise waters of Belize. The story was gripping and wondered while reading the adventure, whether or not Mason pushed Jack and his love interest Max, to the breaking point. Would the two lovers ever be able to be together again or would this mystery and the fiendish Daniel tear them apart.
             Chris Obert - New England Author's Expo
In the tradition of James Patterson, Harbor Ice is a breakneck page-turner that races from the New Mexico heat to the icy New England coastline, featuring an amateur sleuth who quits his armchair for a quick pair of running shoes. A sharp thriller adorned with a genuine romance, compelling characters, and a few refreshing happy hours.
             Derek Nikitas, author of Pyres, and Edgar Award nominee for Best First Novel